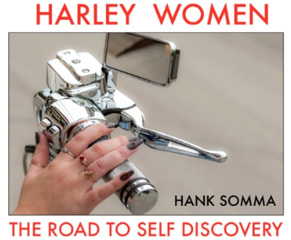 QUINN'S REVIEW OF "HARLEY WOMEN":
click to expand and continue reading
I love this book! In 1985 I bought a Harley Wide Glide. Would have
bought a Soft Tail but they were still chain drives that year. Rode
that bike for 16 years and always fantasized about meeting a girl on
her own Harley but never saw any girls but the ones on the back. Then
in 2002 I quit riding. The call immediately went out, "Quinn's out of
the saddle, it's safe now!" Suddenly I started seeing women riding
their own Harey's everywhere I looked. Timing is everything ya know.
Well Hank Somma has found all those (God Bless The Child Who's Got
Her Own) wonderful women and brought them to all of us in this great
work. He grabbed his camera, hopped on his Fat Boy and told the
girls, "Hi I'm Hank and I'm writing a book". Why didn't I think of
that? Seriously, when Hank points his camera, it sees things that you
don't, and his photos MAKE you see the way Hank sees. Check out
LUU-EZ. The stories are great, the photography is spectacular. Hank
has captured the spirit of the American woman rider.
From the openly kinky wife to the quiet mom, the stories are all
different, like Sal who got her first speeding ticket at age 11, or
the daughter who fell in love with riding only after her dad died and
she started riding his Harley. But, through all of these different
stories runs a thread; FREEDOM!
Jim Quinn